Did you ever have the need to retrieve the documents from the broker without creating another client just for debugging? Try the WebMethods Document Tracker. Its simple and sweet!
It will just take the settings of your broker server and which publisher to subscribe to.
Its quite strong and can handle large documents at ease.
Some common features of the document tracker is as follows:
It can publish a document even with a complex data structure.
It has the ability to export all or selected documents from outgoing or Incoming panel.
It can give you published or delivery reports. Also it can give you statistics of how many documents published in a single go. Or how many currently getting published and delay between two publishes.
Its multi-threaded. This means that publishing and delivery is now in separate threads. This also means you have the ability to browse Incoming documents while doing a pub/sub. Further adding to this, we can even stop the document to be published in the middle. (Highly recommended for debugging/issue analysis at the broker level)
The interface is quite easy to use, although its java Swing with some MFC for windows.
Here are some screen shots for your eyes!
The above screen shows the webmethods document tracker's main screen. I have highlighted the panel where you can check out the incoming and outgoing documents. The subscribe tab allows you to subscribe to a document.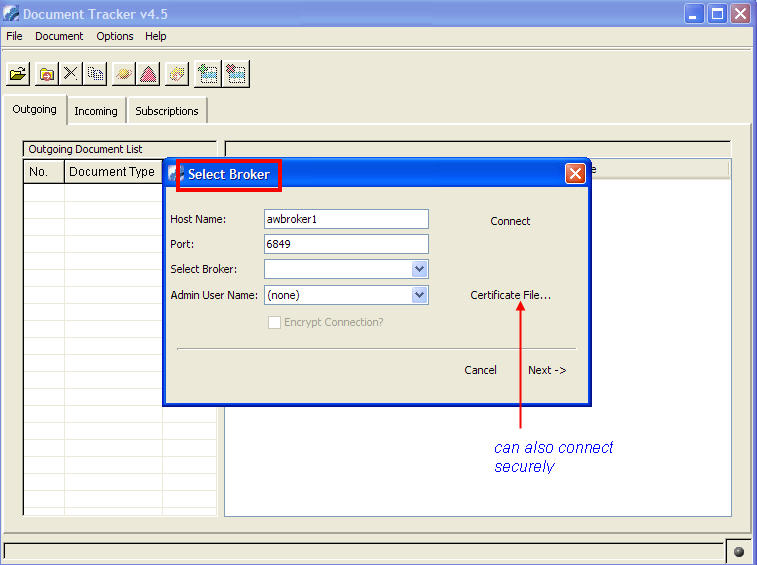 This one shows how we can select a broker to monitor. You can even have a secure connection to the broker by providing a certificate file.